Main content starts here, tab to start navigating
THANKSGIVING 2022
We are officially sold out for Thanksgiving Day pick ups.
Thanksgiving Day Hours 10:30am - 3:00pm.
**However, check out our Thanksgiving sides take and bake, smoked jumbo turkey legs and whole smoked meats to pick up Mon 11/21 - Wed 11/23
Have questions on thanksgiving ordering? Email us at info@hazybbq.com
ORDER TAKE & BAKE
SELECT MON - WED WHEN ORDERING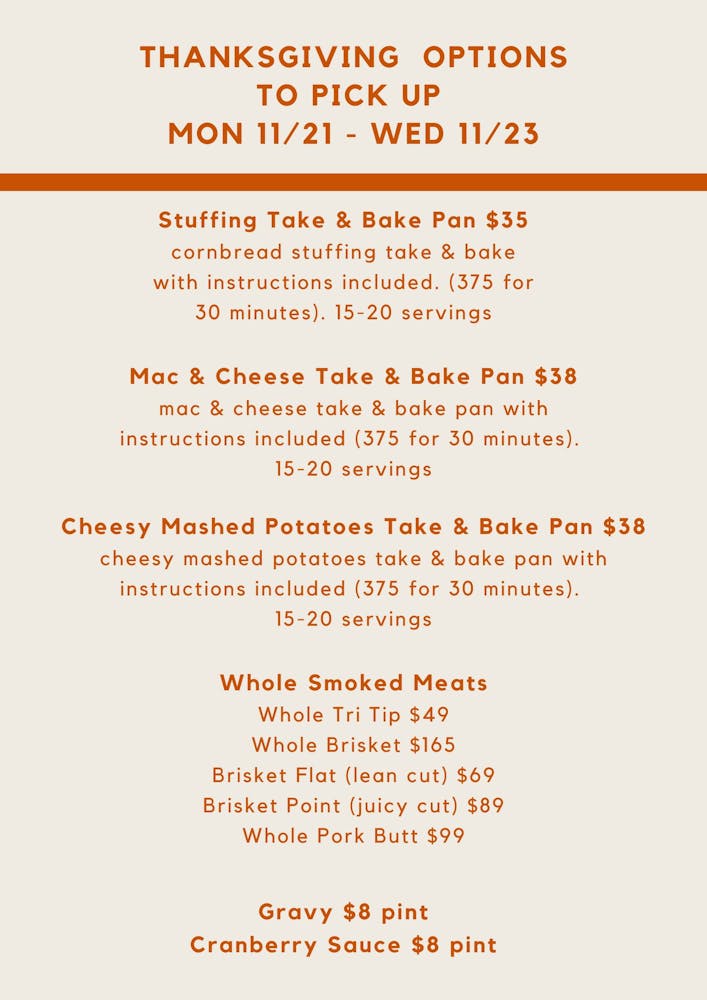 THANKSGIVING FAQ
Q: WHAT HOURS WILL HAZY BE OPEN ON THANKSGIVING DAY?
A: WE WILL BE OPEN ON THANKSGIVING DAY FOR PRE-ORDER PICK UP ONLY FROM 10:30AM - 3PM. WE WILL NOT BE OPEN FOR DINE IN.
Q: HOW CAN WE PREORDER FOR THANKSGIVING 2022?
A: PLEASE ORDER DIRECTLY ONLINE. FOR ISSUES OR CONCERNS WITH ONLINE ORDERING, PLEASE EMAIL US AT INFO@HAZYBBQ.COM
Q: CAN WE CHANGE OUR PICK UP TIME ONCE WE PLACE OUR ORDER?
A: UNFORTUNATELY, WE CANNOT ACCOMMODATE TIME CHANGES ONCE YOUR ORDER HAS BEEN PLACED.
Q: WILL YOUR REGULAR MENU BE AVAILABLE ON THANKSGIVING DAY?
A: THE THANKSGIVING MENU IS THE ONLY MENU AVAILABLE ON 11/24
Q: WHEN SHOULD I PRE-ORDER?
A: ORDERING STARTS 11/1. WE SOLD OUT QUICKLY LAST YEAR SO IT'S FIRST COME, FIRST SERVE.
Q: WE ARE PICKING UP EARLY IN THE DAY, DO YOU HAVE INSTRUCTIONS ON REHEATING OR KEEPING THE FOOD WARM?
A: YES! CHECK OUT OUR REHEATING AND CARVING INSTRUCTIONS HERE.
Q: HOW MUCH FOOD COMES IN EACH PACK?