Main content starts here, tab to start navigating
CHRISTMAS EVE 2022
PREORDERS ARE NOW CLOSED FOR SATURDAY DEC 24TH.
YOU ARE WELCOME TO WALK IN ON SATURDAY TO ORDER TAKE OUT, BUT ONLINE AND PHONE ORDERS WILL NOT BE AVAILABLE ON CHRISTMAS EVE.
We will be open Christmas Eve for pre-order pick up from 10:30am - 11am and dine in/ walk in take out from 11am - 3pm.
ORDER NOW
Have questions on Christmas Eve? Email us at info@hazybbq.com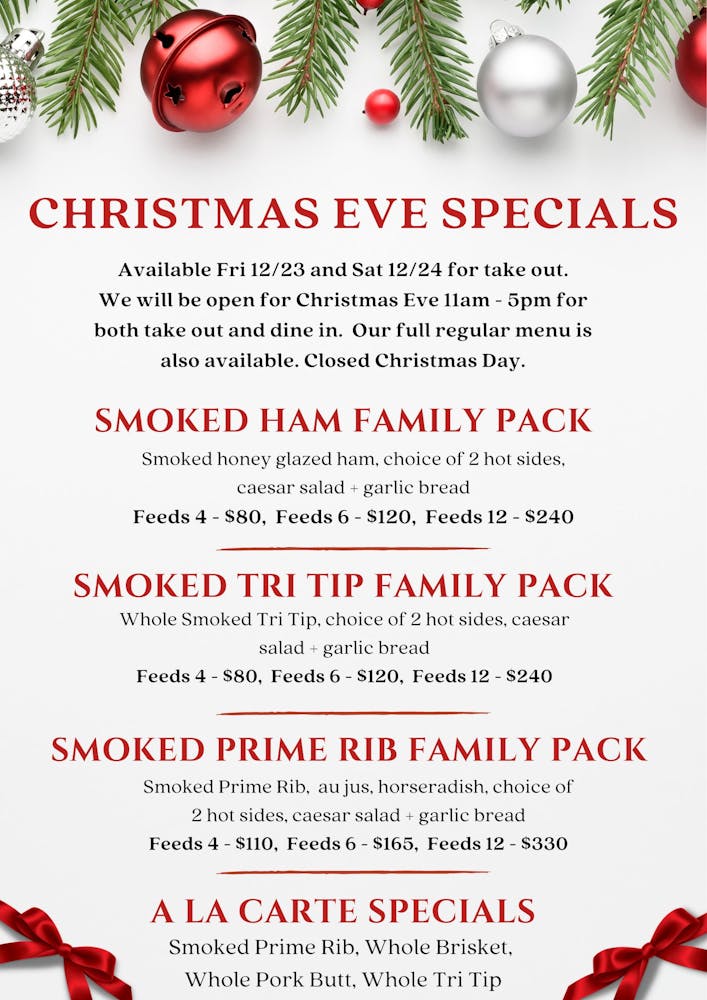 CHRISTMAS FAQ
Q: WHAT DAYS WILL HAZY BE OPEN?
A: WE WILL BE OPEN ON CHRISTMAS EVE FOR PRE-ORDER PICK UP AND DINE IN FROM 11AM - 5PM. WE WILL BE CLOSED ON CHRISTMAS DAY.
Q: HOW CAN WE PREORDER FOR CHRISTMAS EVE 2022?
A: PLEASE ORDER DIRECTLY ONLINE. FOR ISSUES OR CONCERNS WITH ONLINE ORDERING, PLEASE EMAIL US AT INFO@HAZYBBQ.COM
Q: CAN WE CHANGE OUR PICK UP TIME ONCE WE PLACE OUR ORDER?
A: UNFORTUNATELY, WE CANNOT ACCOMMODATE TIME CHANGES ONCE YOUR ORDER HAS BEEN PLACED.
Q: WILL YOU BE ABLE TO ORDER OFF THE REGULAR MENU AS WELL AS SPECIALS ON CHRISTMAS EVE?
A: YES! FOR CHRISTMAS EVE OUR ENTIRE MENU IS AVAILABLE, INCLUDING BASH PACKS AND CHRISTMAS EVE SPECIALS.
Q: WHEN SHOULD I PRE-ORDER?
A: CHRISTMAS EVE MENU IS NOW LIVE TO ORDER.
Q: WE ARE PICKING UP EARLY IN THE DAY, DO YOU HAVE INSTRUCTIONS ON REHEATING OR KEEPING THE FOOD WARM?
A: YES! CHECK OUT OUR REHEATING AND CARVING INSTRUCTIONS HERE.
Q: CAN WE MAKE A RESERVATION FOR OUR FAMILY TO DINE IN?
A: YES! MAKE RESERVATIONS HERE.
Q: WILL YOU BE OPEN ON NEW YEARS EVE AND DAY?
A: YES! OPEN 10:30AM - 6PM ON NYE AND REGULAR HOURS ON NEW YEARS DAY.